Along with lectures and courses led by Institute staff, the Sustainability Institute hosts speakers and events on campus at TCNJ. Providing educational programming engages students, faculty, staff and the public with the core mission of achieving sustainable communities for this generation and the next.
Sustainability Summits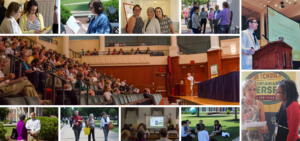 Every year Sustainable Jersey holds or participates in conferences to share new and exciting sustainability initiatives and program activities. In addition to Sustainable Jersey staff, outside experts are brought in to speak on a variety of topics. Each summit explores how individual and community behaviors can impact the quality of necessities for better or worse, such as our air, water, health, economy, and so much more. This is done through speakers and break out sessions on a variety of topics related to the Sustainable Jersey actions, which support efforts to improve overall quality of social, economic and environmental standards. Click here to learn more about the past Sustainability Summits, presentations, and more.
More Past Events
"Lunch and Learn" with Natural Step authors Sarah James and Torbjörn Lahti
This event held Friday May 9, 2014 at The College of New Jersey was a unique opportunity to meet authors Torbjörn Lahti and Sarah James, and discuss sustainability efforts, both in New Jersey and around the world. Their books have inspired thousands of citizens and scores of local governments to take action toward becoming a sustainable community.
Sustainable Jersey hosted a special learning session with Torbjörn Lahti and Sarah James, authors of the award winning book "The Natural Step for Communities: How Cities and Towns Can Change to Sustainable Practices."  This book and Lahti's previous book, "My Journey with the Ecomunicipalities: How to Change the World through Local Action," has inspired thousands of citizens and scores of local governments to take action toward becoming a sustainable community. The Natural Step Framework for Sustainability provides a comprehensive model for planning in complex systems. Torbjörn Lahti, planner and economist, is the founder of the Swedish eco-municipality movement, and has worked with over 100 municipalities in providing ecomunicipality education and assistance. Sarah James, city and town planner, and co-author of theAmerican Planning Association's Planning for Sustainability Policy Guide (April, 2000), has worked with U.S. municipalities for over fifteen years in a bottom-up participatory planning approach closely resembling that of the Swedish ecomunicipalities.  They offer a combined 50 years of hands-on experience in working with local government to bring about successful community change.
Mathis Wackernagel, Ph.D. Co-Creator Of The Ecological Footprint
On September 19th, 2014, The Sustainability Institute brought Dr. Wackernagel, co-creator of the Ecological Footprint and President of Global Footprint Network to the TCNJ campus to discuss climate change, carbon footprints and how experts are tackling these problems and how our mindsets must change. The Global Footprint Network, an international sustainability think-tank, focuses on bringing about a sustainable human economy in which all can live well within the means of one planet. Dr. Wackernagel has worked on sustainability on six continents and lectured at more than a hundred universities.
Mark Warner, Director of Energy, Sustainability Institute
On March 31st 2014, Mark Warner, Director of Energy at the Sustainability Institute, gave a lecture to TCNJ students enrolled in the Power Engineering And Renewables course taught through the Engineering Department.